Are You Preparing to Move to or From Lakewood, Colorado? Move with Experts!
Lakewood is the fifth most populated city in Colorado, and it is growing fast. One of the main attractions is the beautiful views of the Rocky Mount foothills that it offers. If you are moving to or from this area, you need an expert mover Lakewood CO. Moving can be stressful, which is why we work hard to provide fast, quality service to ensure your move goes smoothly.
Our professional Lakewood movers are gentle and precise with packing, making sure none of your furniture or belongings are damaged, broken, or lost during the move.
Our movers Lakewood CO also provide professional packing services. We have years of experience and know the safest way to wrap and pack your valuables so they won't be scratched or damaged.
Interested in our services? We offer commercial moving, residential moving, storage, packing, and long distance and national moving services. We are your go-to movers Lakewood CO. To get a very fast quote for your move, call us now at 303-693-7077. You'll get an instant quote over the phone. We offer competitive prices and work hard to outdo our competitors in price and quality of service. If you don't wish to give us call, you can also fill out our form. We will contact you as soon as we can – which is usually within one business day.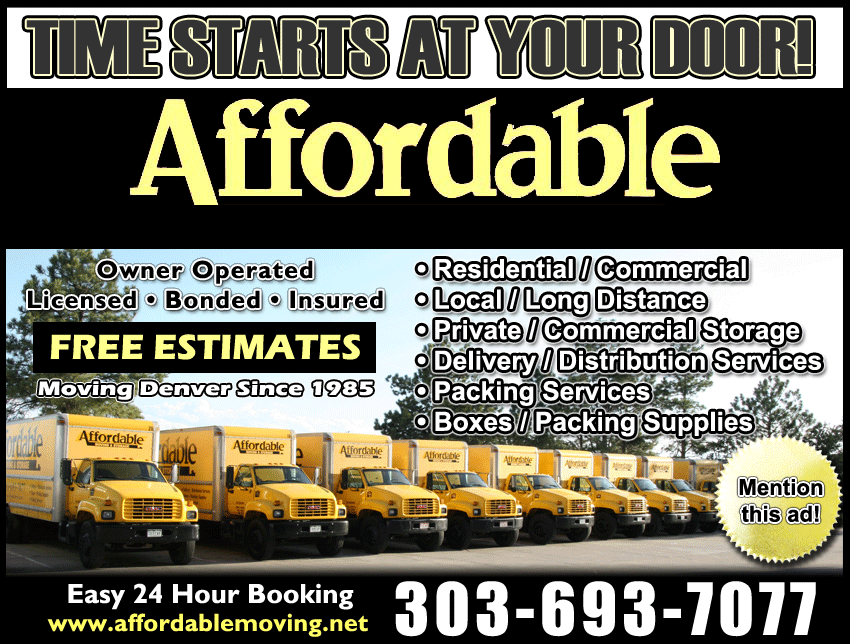 Why Choose Affordable Moving and Storage for
Your Movers Lakewood CO:
If you're looking for an experienced, affordable, knowledgeable company to move your belongings in Lakewood, Colorado, look no further. There are many benefits to choosing us as your movers Lakewood CO.
Family Owned and Operated
Our professional Lakewood movers are gentle and precise with packing, making sure none of your furniture or belongings are damaged, broken, or lost during the move – from beginning (whether you pack or we do), to when it arrives at your new home. We care for your belongings as if they were our own.
Our movers are safe and gentle – we won't ruin your belongings during the move. Hear it from our past customers: We have great reviews from people who have worked with us in the past. They are very satisfied with the friendliness of our movers Lakewood CO, our affordability, and the quality of our service.
We offer affordable prices. We may not be the cheapest mover in Lakewood because we focus on quality service when it comes to moving your belongings. Many movers charge extra fees – there are no hidden fees when you work with movers Lakewood CO. We have an upfront price we stick with.
According to CityData census, Lakewood is home to over 147,000 people! The median age is 38.7 years old, and the estimated median household is over $53,000.
Lakewood is a beautiful city at the heart of the front range. It offers one of the best views of the foothills of the Rocky Mountains, and is conveniently located to provide an easy, 20 minute drive to downtown Denver.
Over 80 Parks in Lakewood
Lakewood is rich with culture itself, however. There are over 80 maintained parks in Lakewood, including Bear Creek Lake Park. Bear Creek offers hiking trails, picnic areas, fishing, water-skiing concessionaire in the summer, and dirt biking trails. The park is 2,600 square feet and it offers an activity for every person in the family. For the more adventurous, Hayden Park on Green Mountain boasts expansive views of the mountains and a steep workout.
Lakewood Culture
Lakewood also boasts a strong art scene. 40 West Arts along West Colfax was recently named a Certified Colorado Creative District. It has performing art venues, dozens of galleries, and over 20 public art installations. The Lakewood Cultural Center offers a 300-seat gallery space and theater, and the Lakewood Heritage Center offers an outdoor amphitheater as well as 10 historic sites and thousands of artifacts.
Shopping at Belmar
Belmar is a beautiful outdoor mall situated at the heart of Lakewood. There are countless restaurants, shops, and pedestrian areas. This mall area has grown enormously in the past few years, and offers a fun area full of good food, entertainment, and shopping for all residents to enjoy. If you're interested in small business, visit the West Chamber of Commerce website to learn about the businesses, economy, and community of Lakewood.
Lakewood, Colorado, is a wonderful place to live. Learn more by watching the video below!